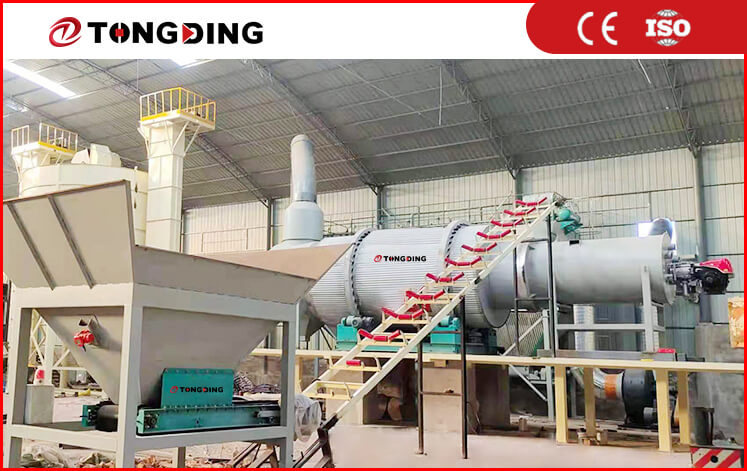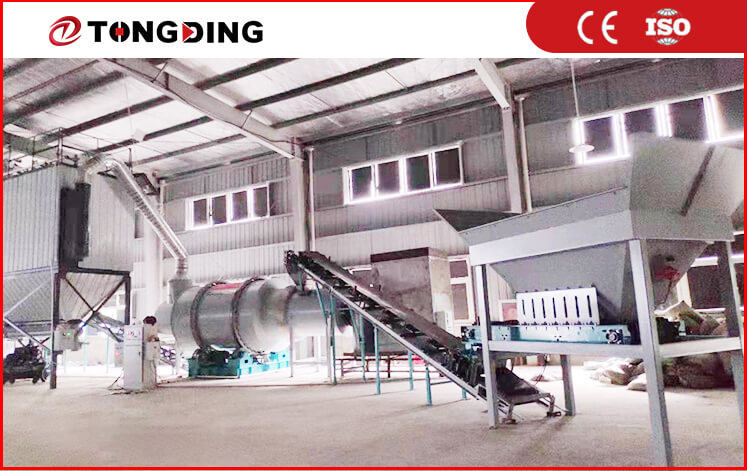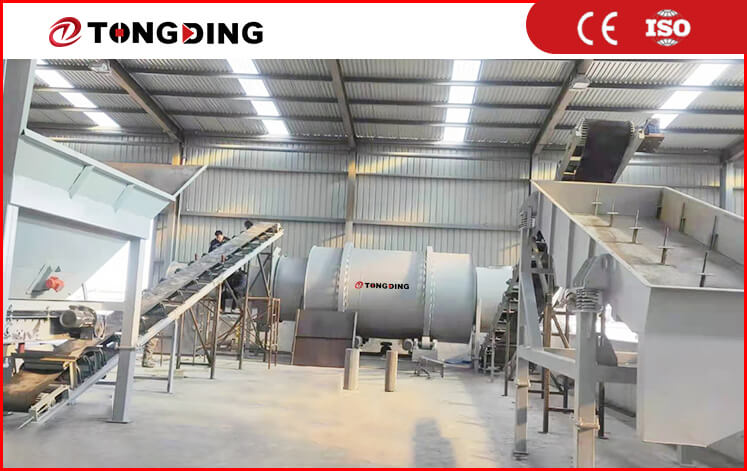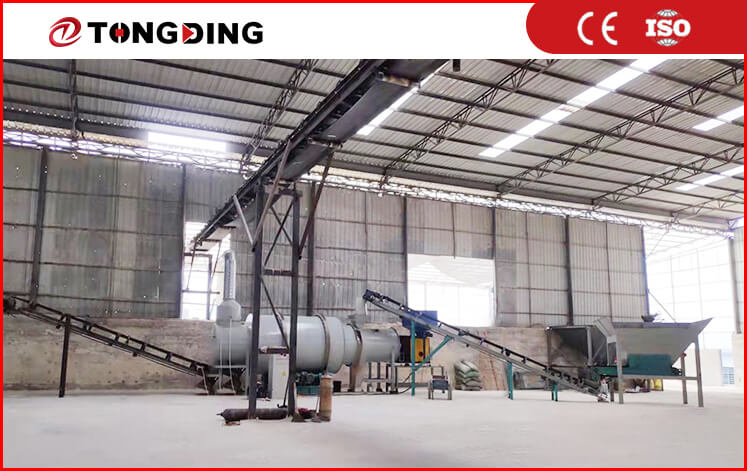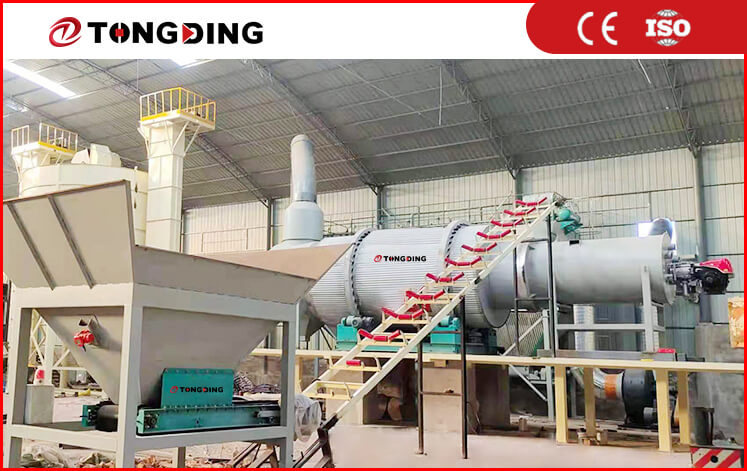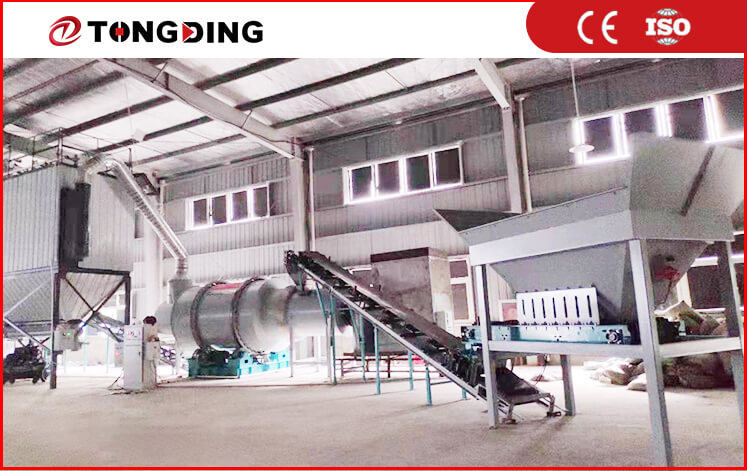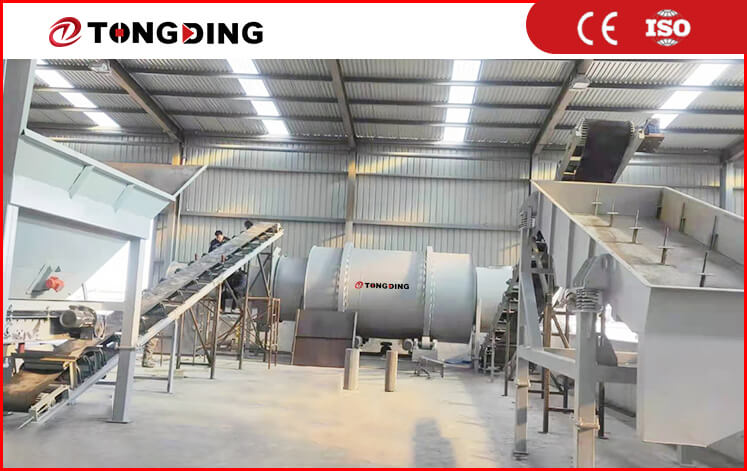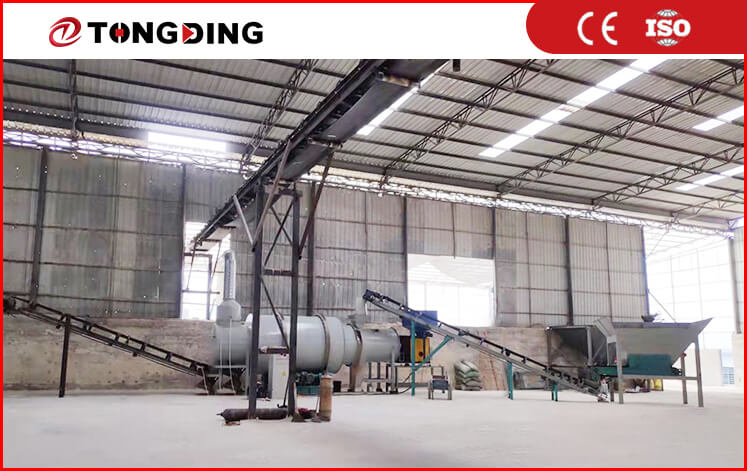 Sand Rotary Dryer
Capacity: 5-100 t/h
Heat Source:Suitable for biomass, natural gas, diesel, coal, etc.
Application: Suitable for drying the sand, fly ash, coal, mineral materials, slag and other material.
Product Introduction
The sand dryer, also known as a three-layer drum dryer or a three-return cylinder dryer, is an industrial dryer designed for non-viscous, liquid materials. It is a development and improvement based on the single-cylinder dryer. The three-cylinder dryer, manufactured by TingDing company, is currently available with mature technology. It effectively dries various materials such as sand, fly ash, coal, mineral materials, and slag, producing excellent drying results.
Layout Reference

Working Principle
The sand is transported to the silo either by a belt conveyor or a bucket elevator, and then transported to the feed end through the silo feeder. In order to facilitate the smooth flow of sand into the dryer, the inclination of the feeding pipeline should exceed the natural inclination of the materials. The rotating cylinder of the dryer is slightly inclined to the horizon, allowing for the material to be fed from the higher end while the heat carrier enters from the lower end, producing adverse contact between them. Sometimes, they can be fed into the cylinder together. As the cylinder rotates, the sand is carried to the lower side by gravity.
During the forward movement of the sand, the wet raw material is directly or indirectly roasted by the heat, allowing for rapid drying. The final product is discharged through either a belt conveyor or a screw conveyor. A shoveling plate is installed in the dryer to increase the contact area between the airflow and materials, enhance efficiency, and promote material flow.
The heat carrier used is typically hot air or flue gas, among others. Following the dryer process, a cyclone dust collector is necessary to capture items in the airflow. To further reduce the dust load of the exhaust, it is recommended to use either a bag-type or wet-type dust collector and then discharge the waste gas accordingly.
Applicable Materials
Foundry sand, Quartz sand, Garnet sand, Emery, Kuala kangsar, Sand, River sand, Sea sand.
Parameter
Model(m)

Output(T/h)

Coal consumption kg/t

Total power

River sand

Fly ash

Mineral waste residue

TDOPQ5

4-5

2-3

3-5

12-14

5.5kw

TDOPQ12

8-12

4-6

8-10

12-14

3kw×2

TDOPQ15

12-15

6-7

10-13

10-12

4kw×2

TDOPQ18

14-18

7-9

12-15

10-12

5.5kw×2

TDOPQ28

23-28

10-13

20-22

10-12

5.5kw×4

TDOPQ35

30-35

15-18

25-30

10-12

5.5kw×4

TDOPQ40

35-40

18-20

32-35

8-10

7.5kw×4

TDOPQ45

40-45

20-25

35-40

8-10

7.5kw×4

TDOPQ50

45-50

25-30

40-45

8-10

11kw×4

TDOPQ55

50-55

30-35

45-50

8-10

11kw×4

TDOPQ70

60-70

35-40

60-65

6-8

15kw×4

TDOPQ80

70-80

40-45

70-75

6-8

15kw×4

TDOPQ90100

90-100

45-50

80-90

6-8

18.5kw×4

TDOPQ80100

80-100

45-60

80-90

6-8

18.5kw×4

(The output is set according to moisture : dry from 15% to 1-3%)
Inquiry
Please Feel free to give your inquiry in the form below. We will reply you in 24 hours.